There are no major surprises to the latest sales numbers for Seattle's Eastside communities from Renton to Bothell; East of Lake Sammamish to Kirkland & Lake Washington. Prices are mostly up, modestly in most areas but a few with price reductions over 2017 prices. Inventory levels have doubled their 2017 levels and the sales pace has varied from stable or slightly higher to as much as 25% off 2017 levels. That said, sales pace has been above the 10 yr average in all areas. With the winter season upon us, it's likely we'll see continued slowing in the pace and flat to lowering prices.  With the amount of economic growth in our overall region and the Eastside cities in particular, these numbers are "the break" in the market that most buyers have been asking for since 2015. Inventories typically decline as we get further in to winter but I expect we'll see a quicker bounce back up in homes for sale after the New Year. Let me know if you'd like more specific market details on areas of interest to you.
Take a look at the numbers and some of the Giving Back that Windermere has done in 2018 and some of the stats that show Windermere is still the most respected and dominant real estate company in our region. I'm grateful to have called it home since 1989.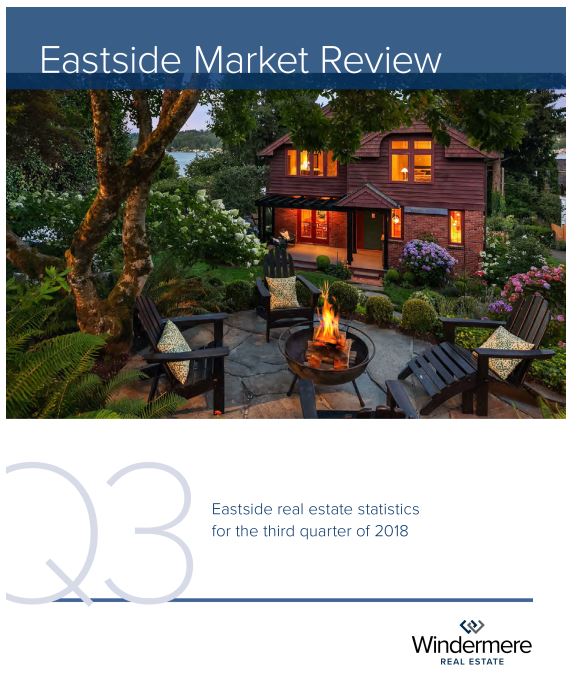 While the headline stories seem cataclysmic, the reality is still that we are seeing a shift from our escalating home values. We've come off the peak numbers by 3-5% but much of this is from buyers bidding over the asking prices. Where list prices were and where they are today are only 1-2% different. Home values have still risen in a year over year comparison. That said, there are definitely opportunities for buyers that we've not seen in the last few years. While some see no reason to buy, thinking the market will continue to drop, we still have amazingly strong growth in the general Seattle area for population, jobs and wages. This means any "drop" is more likely driven by mentality than reality factors and can therefore shift back upwards or flatten quickly. This means when you find that new home opportunity, you should make your move on it now. You won't be selling in 1-2 years, so any fluctuation is somewhat meaningless; just as you don't sell a stock you bought last week, just because it dropped 2-3% in value this week. Buy your opportunity while others hesitate.
For home sellers, the peak values are likely behind you but we're still at ascending values when compared to a year ago and well above values of 2,3,5, 8 years ago. Don't put your life on hold because you wanted 2-3% more for your home. Appreciate the gains and wisdom of your investment and if it's time to move, then make the move with confidence that you achieved an investment goal you likely hadn't planned to turn out as well as it has. Next January to March should be a strong market for Sellers, so if moving NOW isn't the priority but soon is, then make this your time frame target.
Here's the latest area stats for your review.